Day 8 Villers Chatel to Arras – 8th June
Distance: 25.7 km – Elevation +130 m -210 m
Weather: Sunny. Temperature: High 25 degrees
I said goodbye to my hosts after a good nights sleep and a hearty breakfast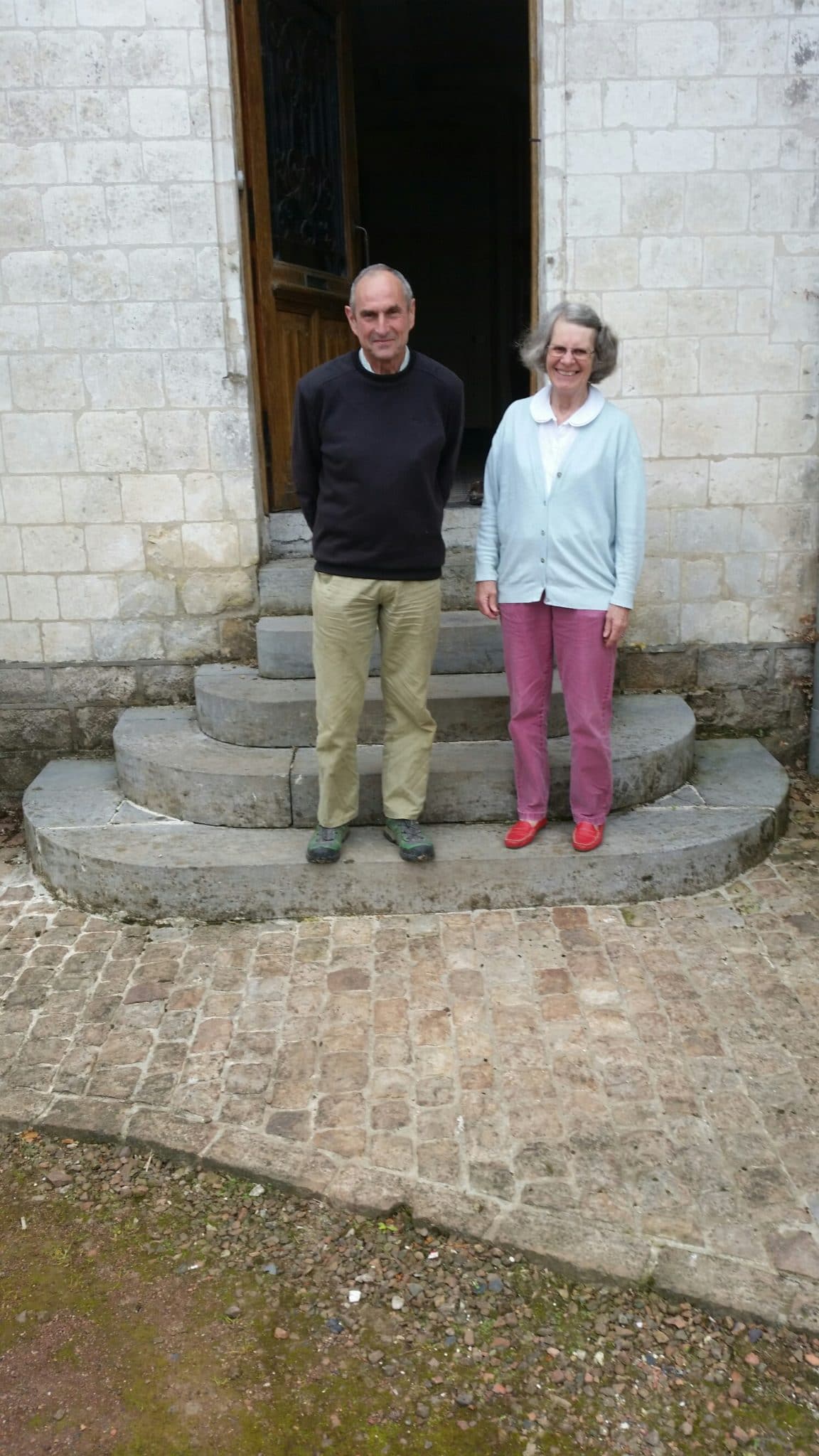 Mr Jean de Franssu walked with me as looked back at the chateau shrouded in the morning mist.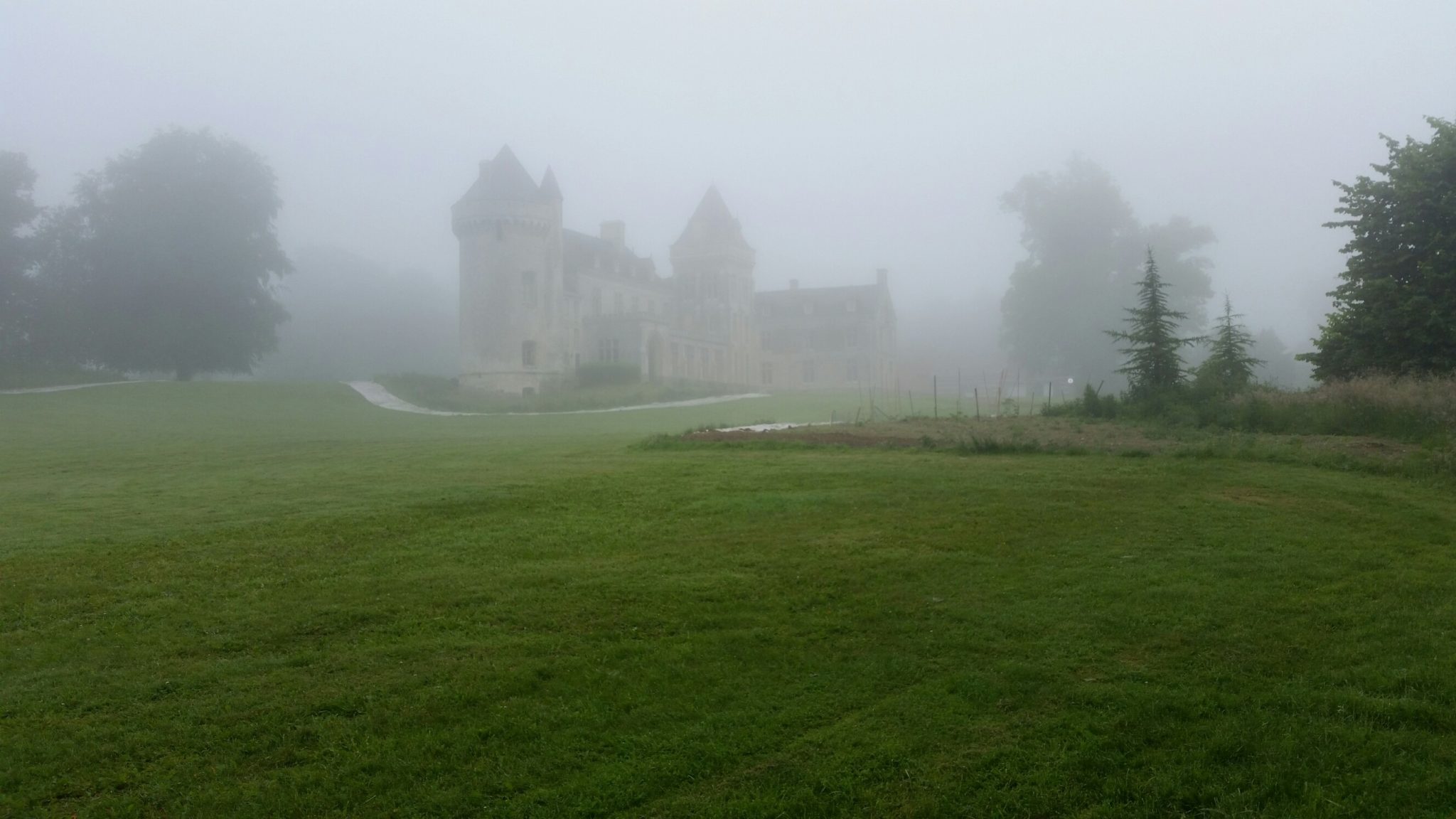 He put me on the right track and gave me a map marked with the route to Arras. They were wonderful hosts and the pilgrim accommodation is provided on a donativo basis
I quickly reached the small town of Aubigny en Artois which was just awakening as I walked through. Walking on to pass through Frevin Capelle to reach Acq where I found a boulanģerie and sandwicherie open – I was greeted by this beaming smile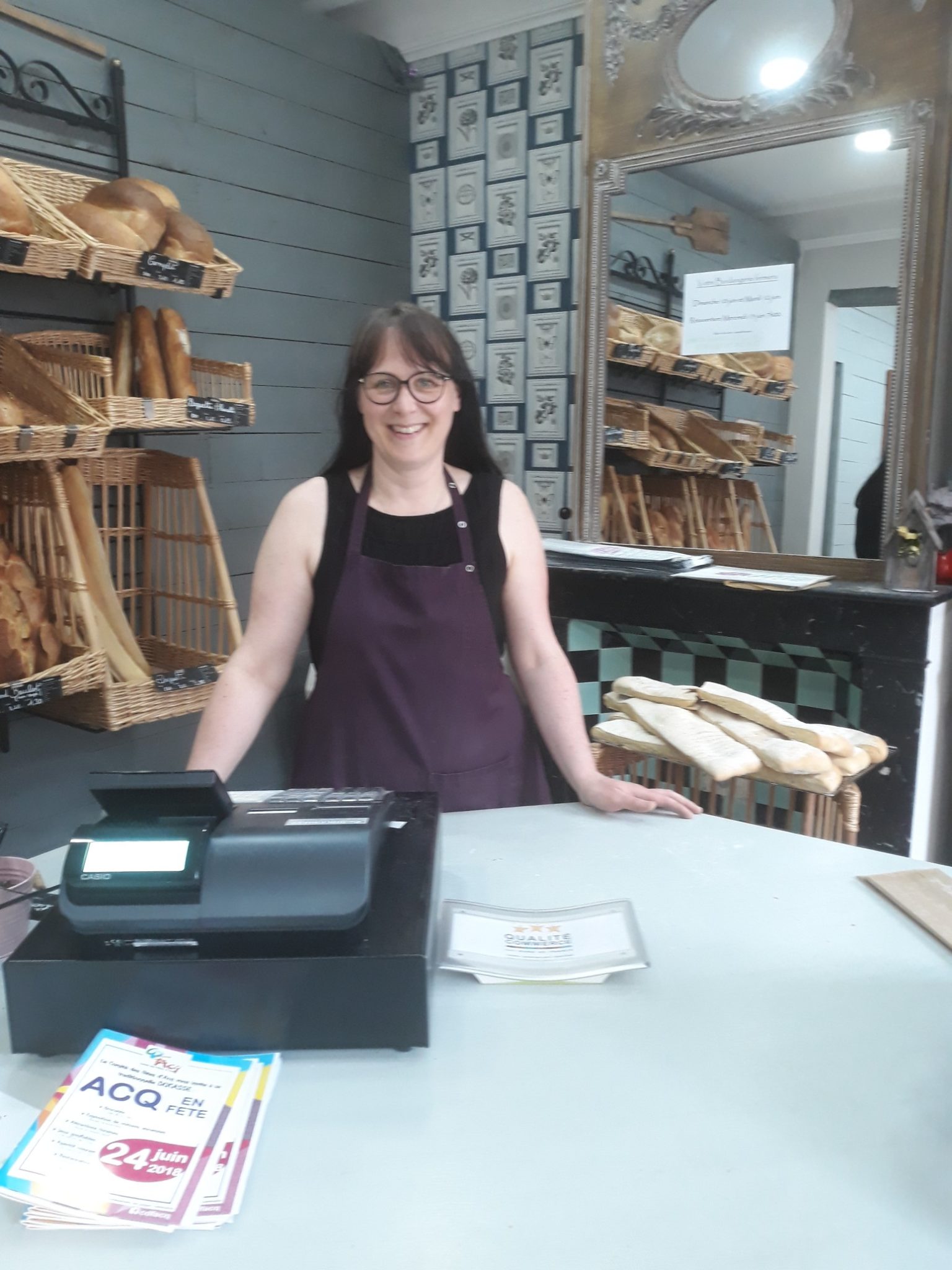 Another good opporunity for a conversation in French as my sandwich "avec jambon et fromage et salade pour le route" was freshly prepared . Shortly after I found a bar open and enjoyed a very welcome cup of coffee.
Somehow I lost my way around Maroeuil and found myself on a rather busy section of the D939. I stopped in a parking area and donned my yellow vest. I could see behind me the ruins of Mont Saint Eloi Abbey which is where I should have been.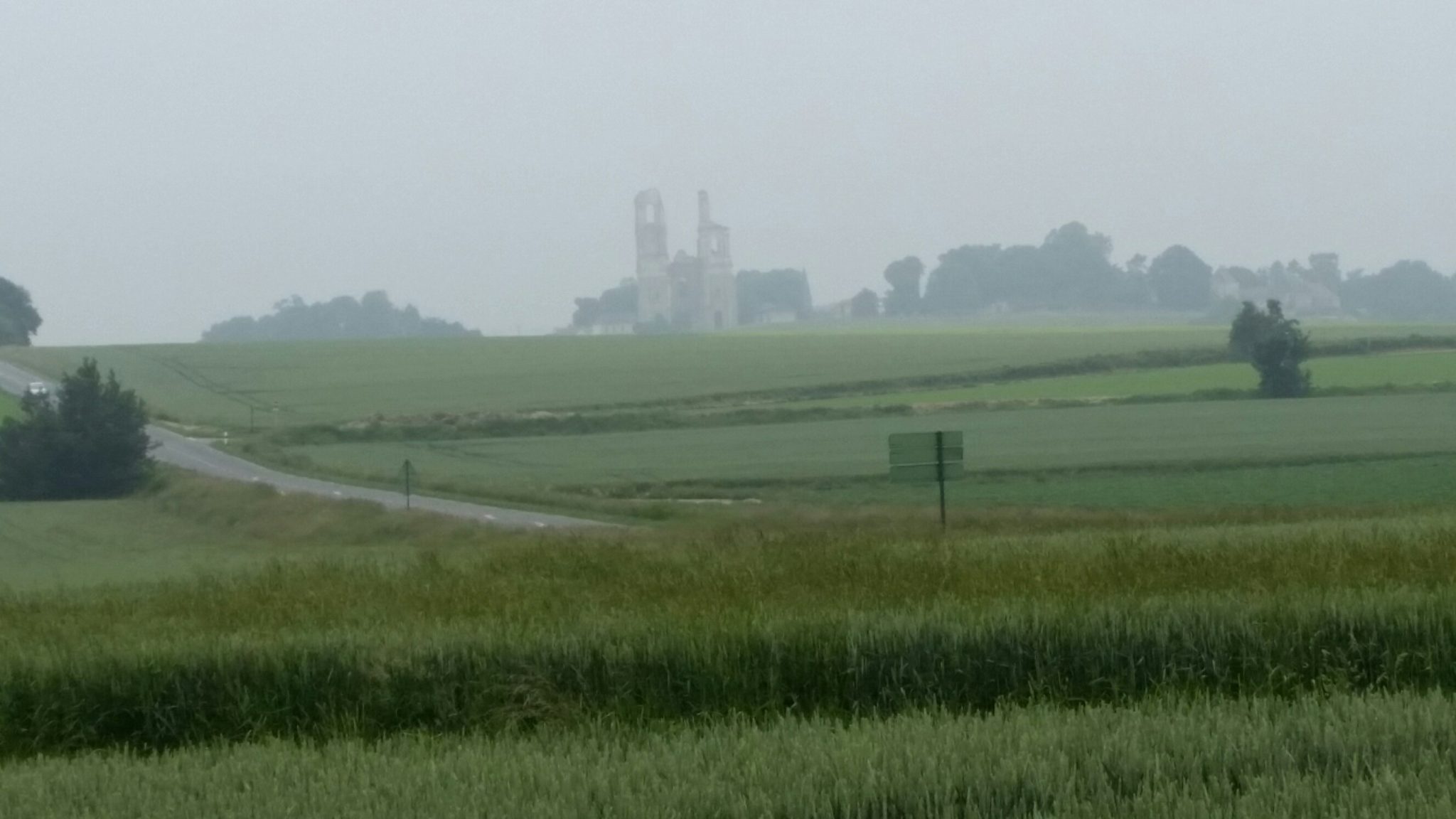 I eventually found a way off the D939 and immediately came to transport cafe where I was unexpectedly served by an English man who really didn't want to chat but the ice cold drink was so welcome on what was a very hot day. Pressing on into Duisans where by surprise I came across this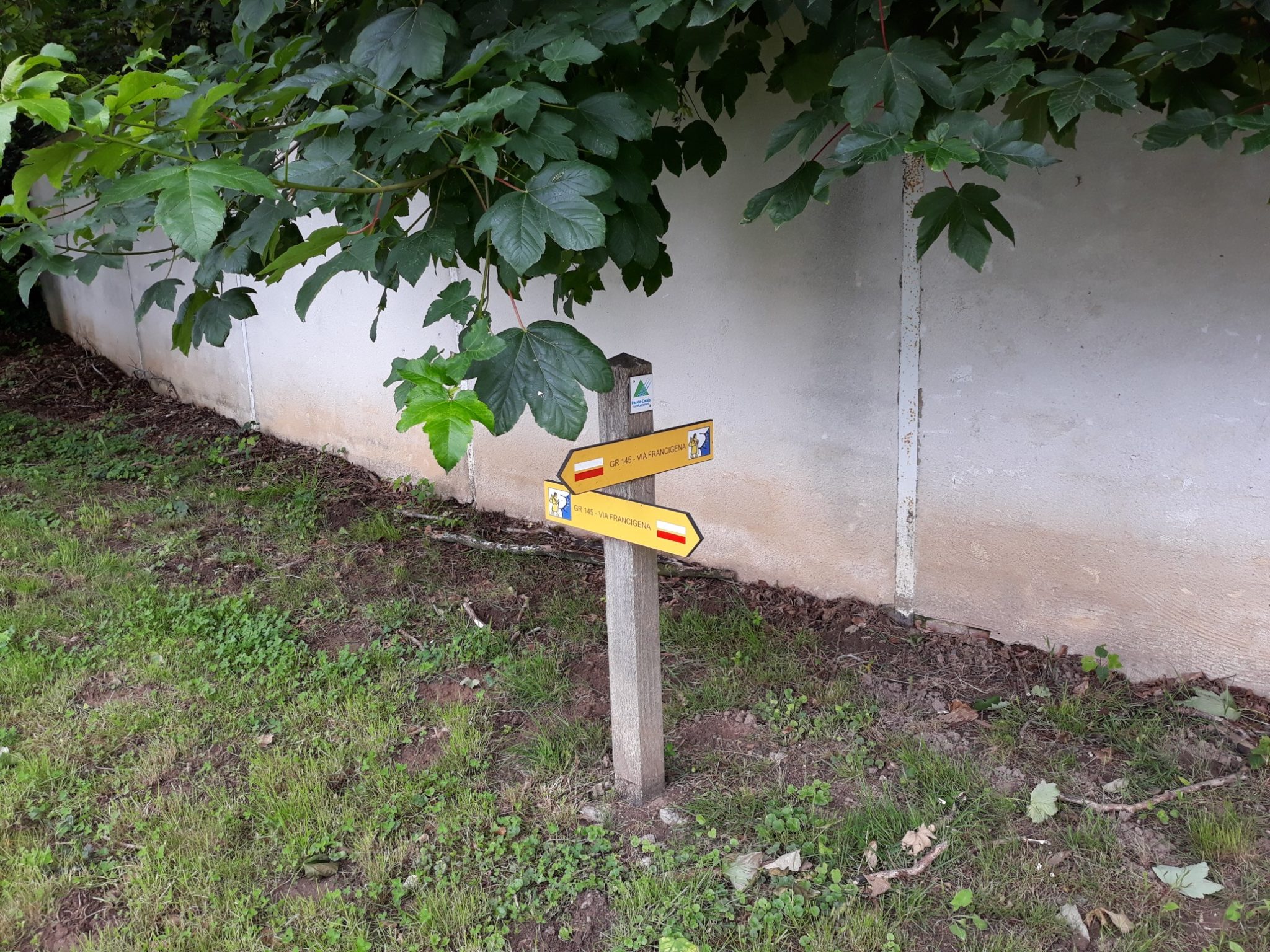 One of those rare Via Francigena signs ! From here I was able to pick up the Cicerone path into Arras.
Arras is a large city and it was rush hour. After a couple of mishaps with Google I arrived at "Maison Saint Vaast" which is a Roman Catholic conference centre and they have perfectly adequate rooms available at a very reaonable price for pilgrims.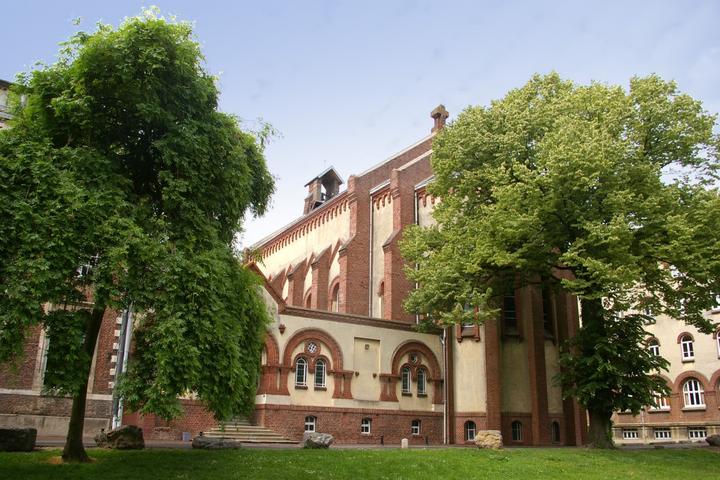 The staff are a delight, friendly and helpful. I had booked dinner and breakfast and asked on arrival " A quelle heure est le dejeuner " and was told 6.30 pm which gave me 45 minutes to shower and generally make my self presentable after a tiring days walk. I duly arrived on time and asked where the dining room was – I pointed in the right diection with the words " bon appètit". I found my way to the restaurant expecting to find it hustling and humming with activity – it was a large 100 seater room – but it was totally empty and silent – and there in the middle of the room was a single place setting strategically placed in front of glass doored refrigerator in which I saw a tray complete with a pre-preparefd 3 course dinner ! The main course was cold and I found a microwave and sat there in splendid isolation enjoying a very tasty dinner – and wondering why the member of staff had been so precise about the time for dinner – the whole dining expeience was so surreal.