Day 17 Reims to Versy – 17th June
Distance: 20.7 km – Elevation +200 m -120 m
Weather: Sunny intervals. Temperature: High 21 degrees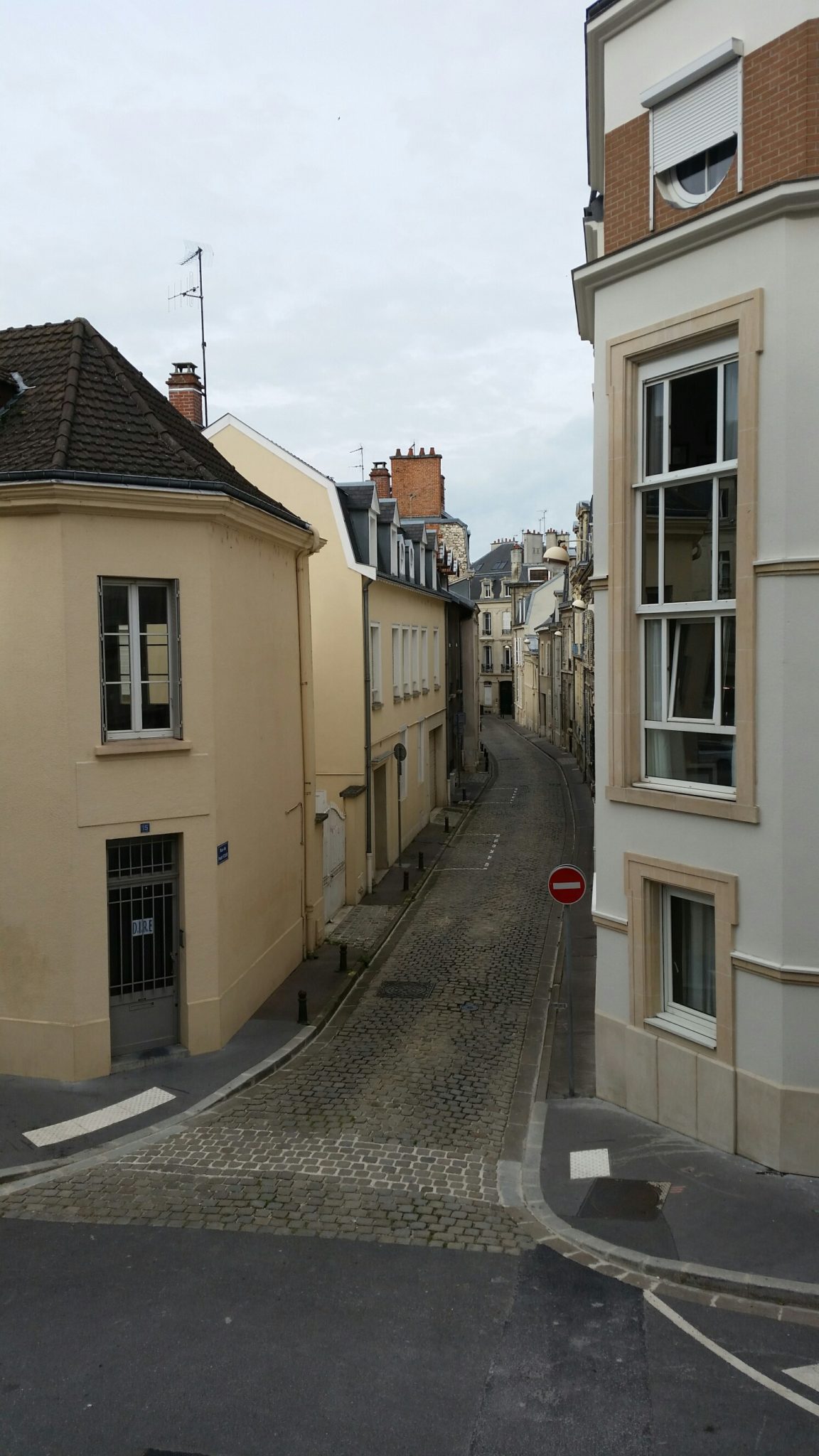 I was in no hurry to leave Reims this morning- I had around 25 kilometres to where I was staying but could not get in until after 7.00 pm. So I took a leisurely breakfast and chatted with the owner of the hotel. He spoke good English and told me he had lived in Bradford as a boy- his father was an English soldier and his mother was French. When he was about 10 his parents separated and his mum had to return to France bringing him with her.
I had previously decided to attend mass in the cathedral and arrived in time for the 9.30 am service. The choir and the organ music was just divine and very moving and the priest spoke with a such gentle voice. It was so different from the services I had attended whilst walking the Camino in Spain last year which I found a little harsh. What surprised me was that some of the congregation, residents of Reims, attending the service arrive late or leave early. At some point in the service, an elderly lady dressed in a white dress with polka dots and a hat with a black net veil arrived and walked down the aisle to her seat. She had a significant limp but everything about this lady was so elegant and the limp was part of that elegance and when she reached her seat she knelt and gave the sign of the cross with a single movement that just flowed – I will always remember that moment.
At the end of the service I felt a tap on my shoulder and as I turned there was a man with a wonderful smile " Compostella ?" he asked. Reims is where two pilgrimage paths meet – a path from Holland to Santiago de Compostella meets the Via Francigena the road to Rome – he also was a pilgrim but was going to Santiago.
Leaving Reims the route took me along the Canal de l'Aisne à La Marne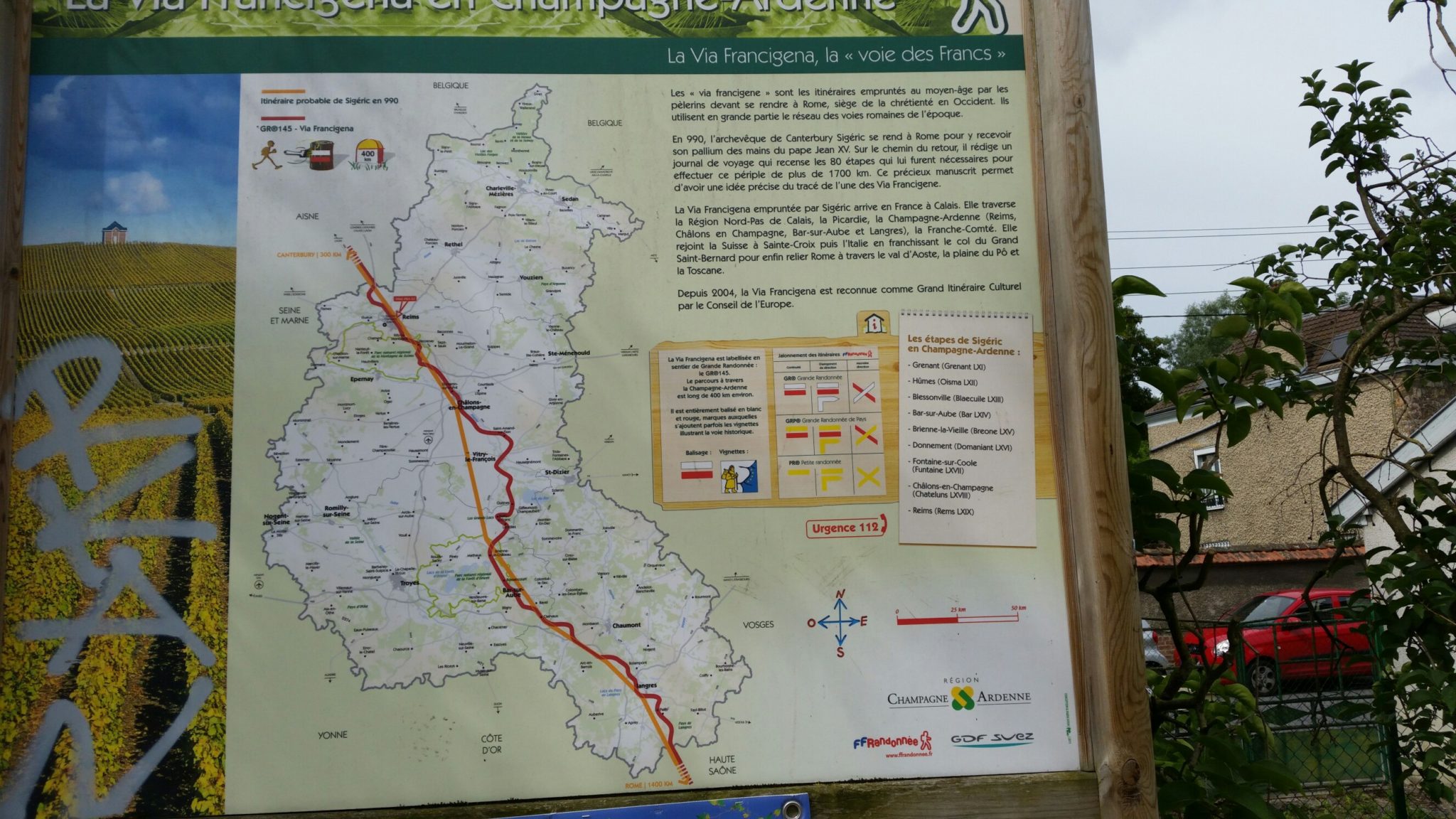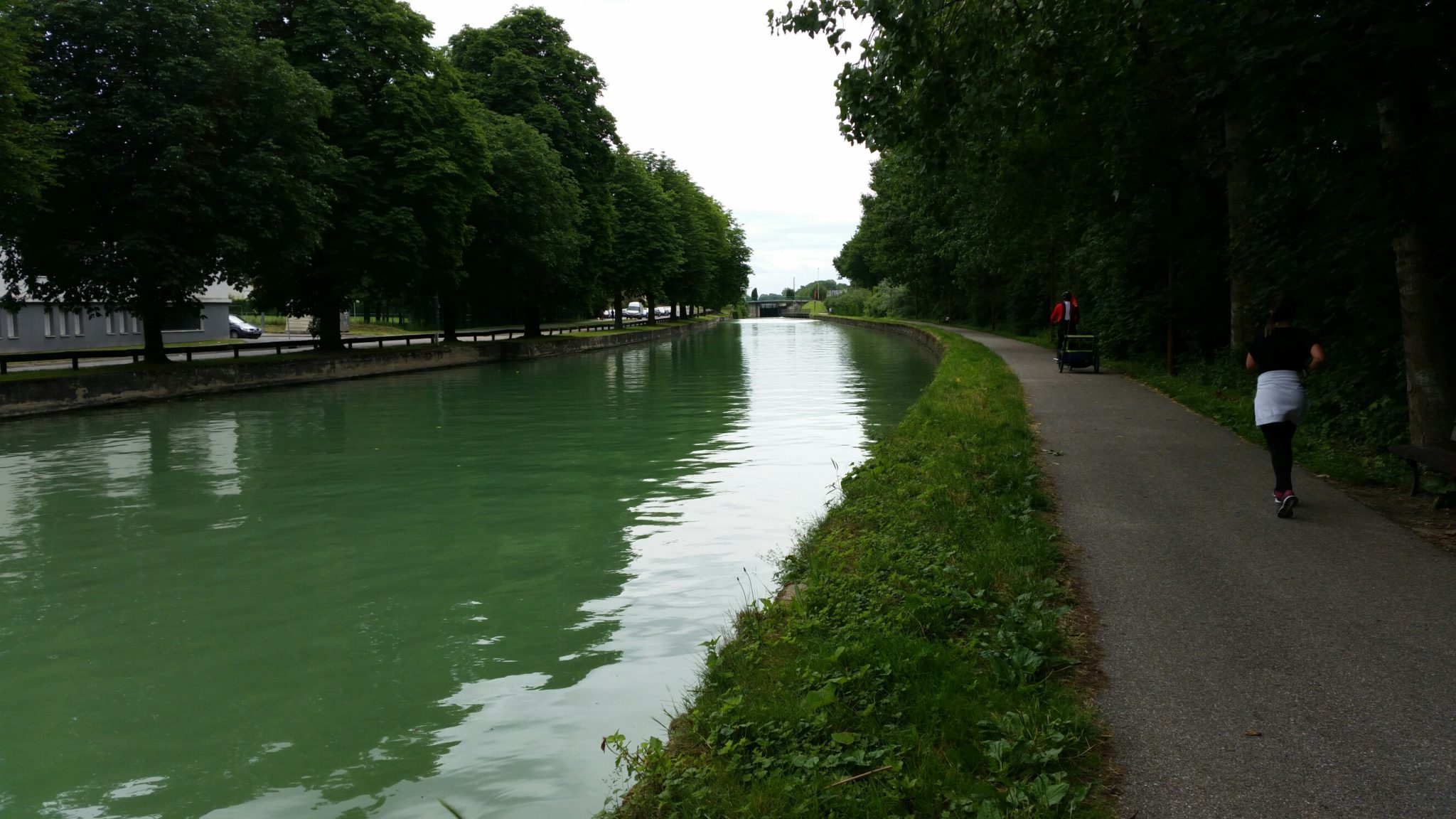 It was Sunday and the Canal path was full of runners, joggers, and cyclists. I have never been amongst so many fitness enthusiasts and it was intriguing to watch the different ways people run – there are the flat-footed plodders, those that run themselves into a state of almost total exhaustion, there are the technical runners with devices strapped to various parts of their body to monitor bodily functions and to measure performance, and the runners that seemingly float by, feet or toes barely touching the ground which reminded me of a song from my youth, ' Poetry in Motion ' sung by Johnny Tillotson, a line from which is " Her lovely locomotion". There were the ' no hands' cyclists checking their mobiles and those with dogs. I was passed by a couple – the man on a bike, the woman running, and a Dachshund, with its short legs moving rather rapidly, in between. It was a fun day on the Canal path.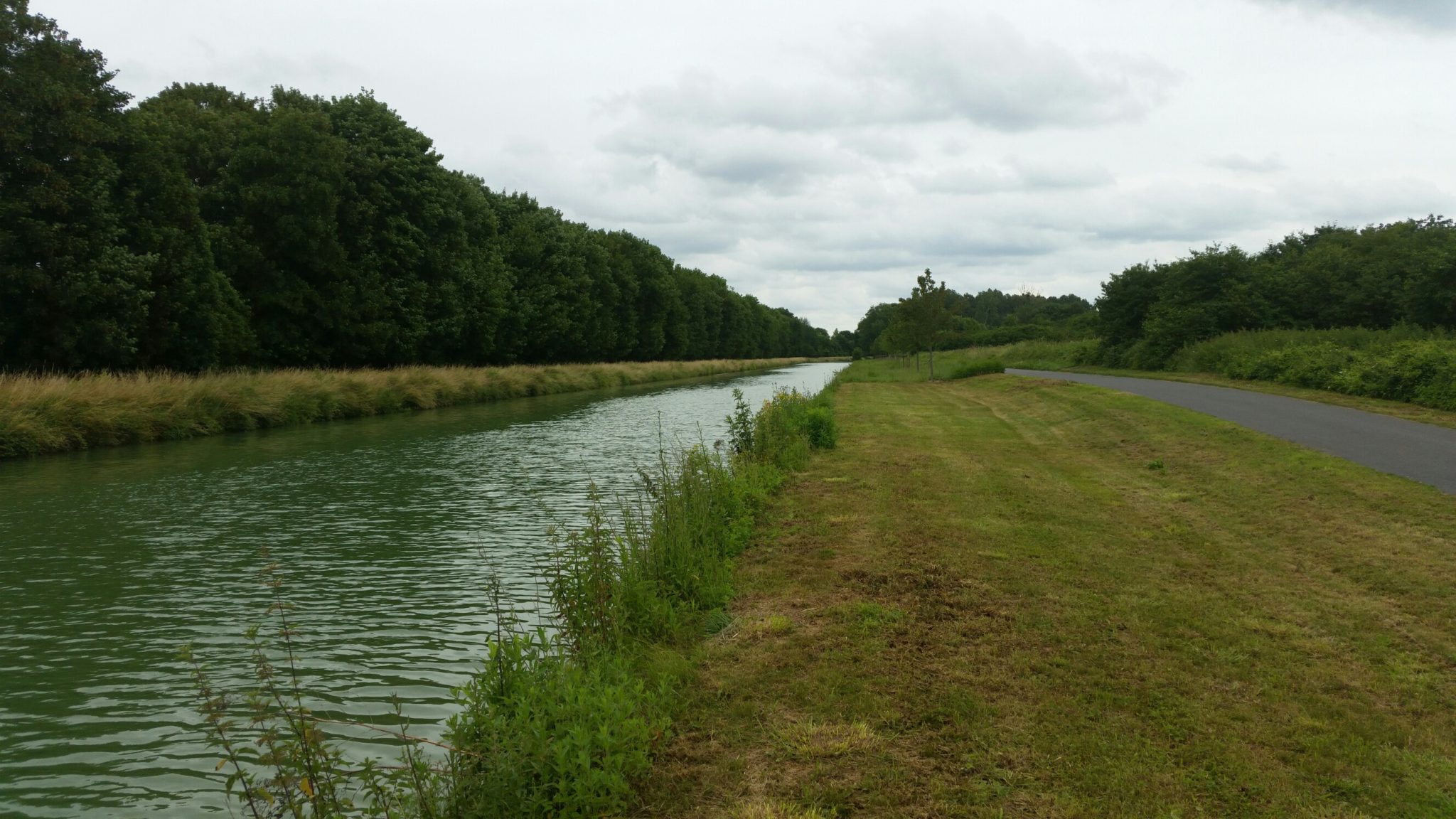 The further away I walked from the city the quieter it came. I passed two women walking back to Reims and after I passed one called out to me. I explained that " mon Français n'est pas bonne and one replied in almost perfect English. They asked a lot of questions about my pilgrimage and showed a genuine interest. Later the path was deserted as I sat and enjoyed my packed lunch.
I left that canal at Sillery and immediately passed a military cemetery where over 10000 French soldiers are buried after losing their lives during the First World War.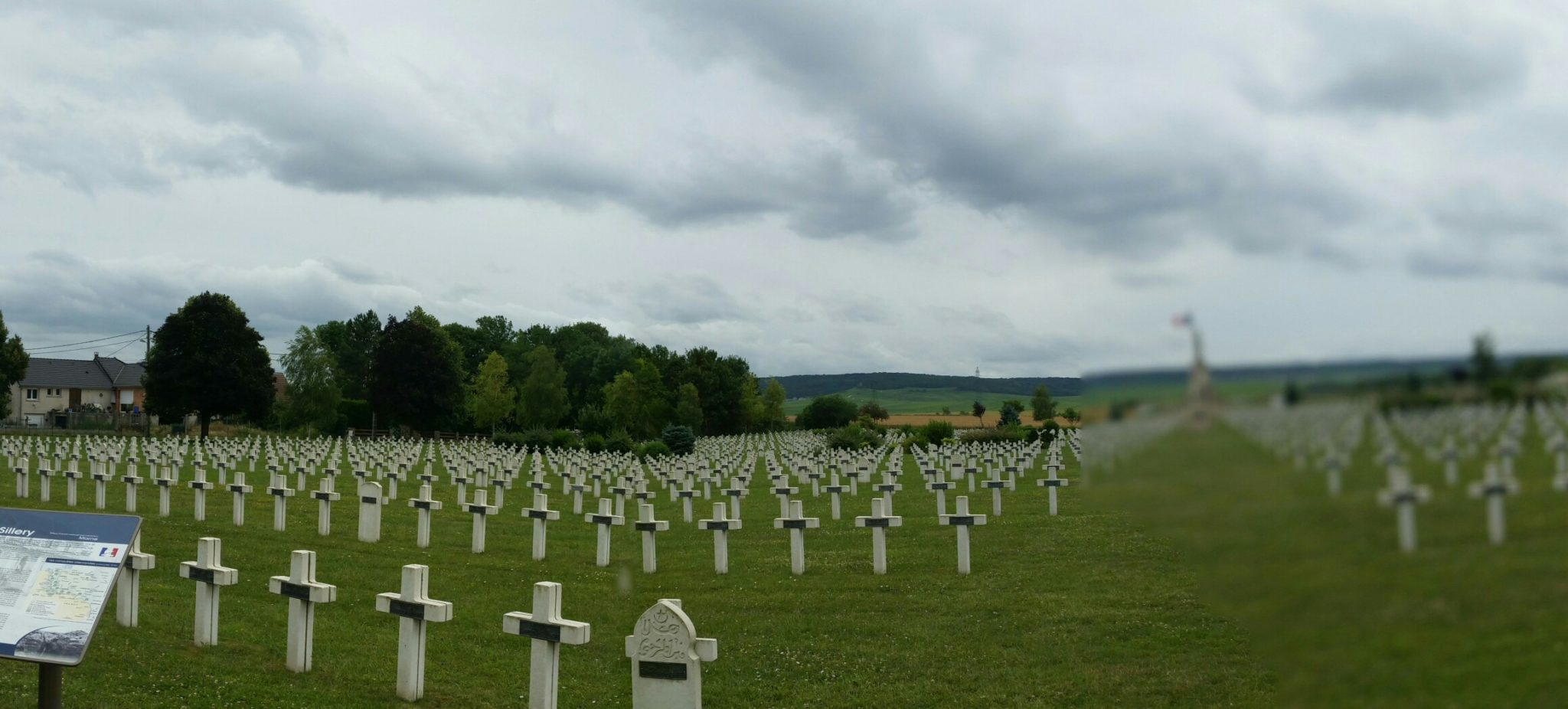 Moving out of Sillery the countryside was full of golds and greens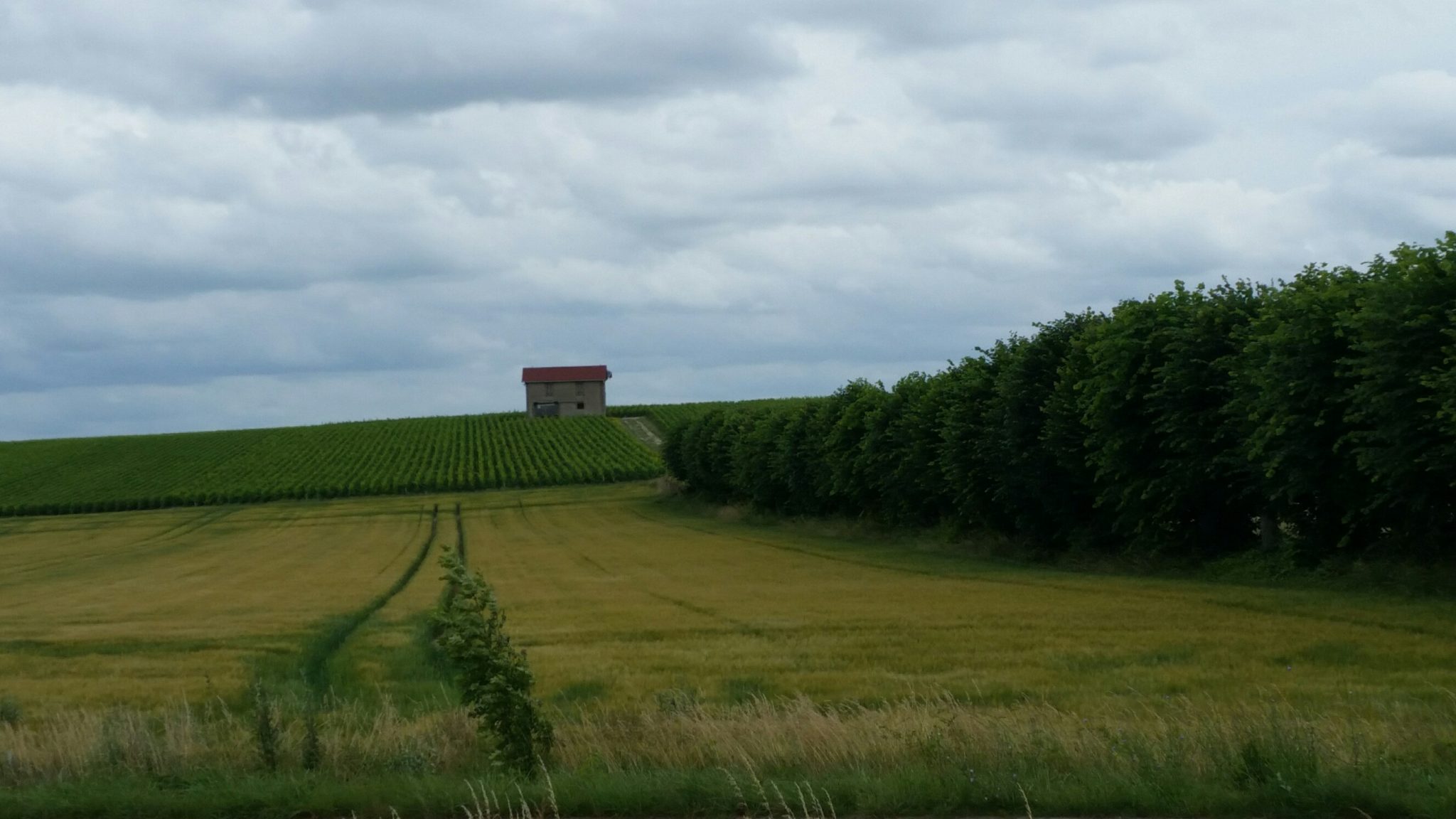 It was mid-afternoon when I found myself deep into the Champagne vineyards – this is where Moat champagne begins its life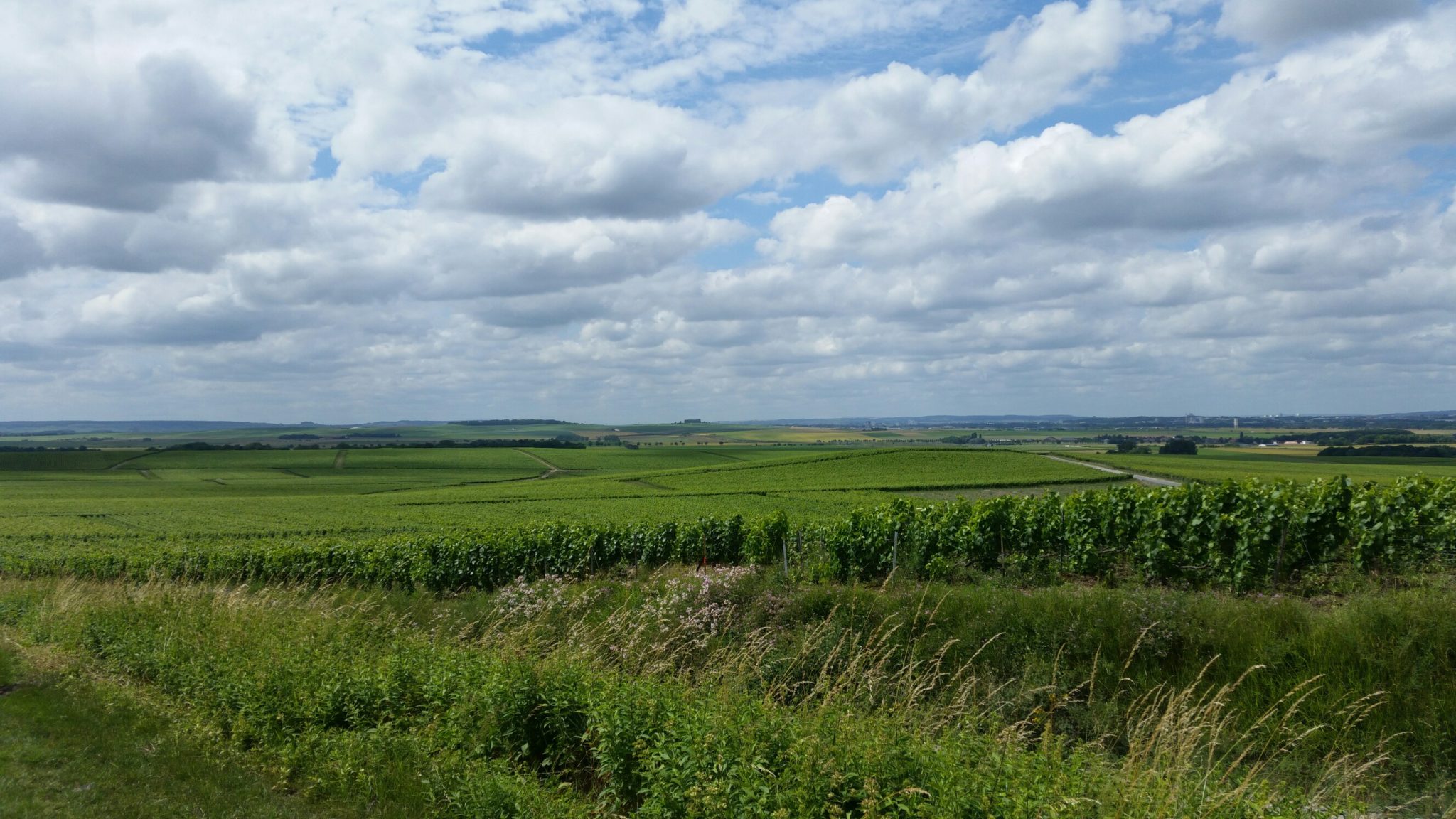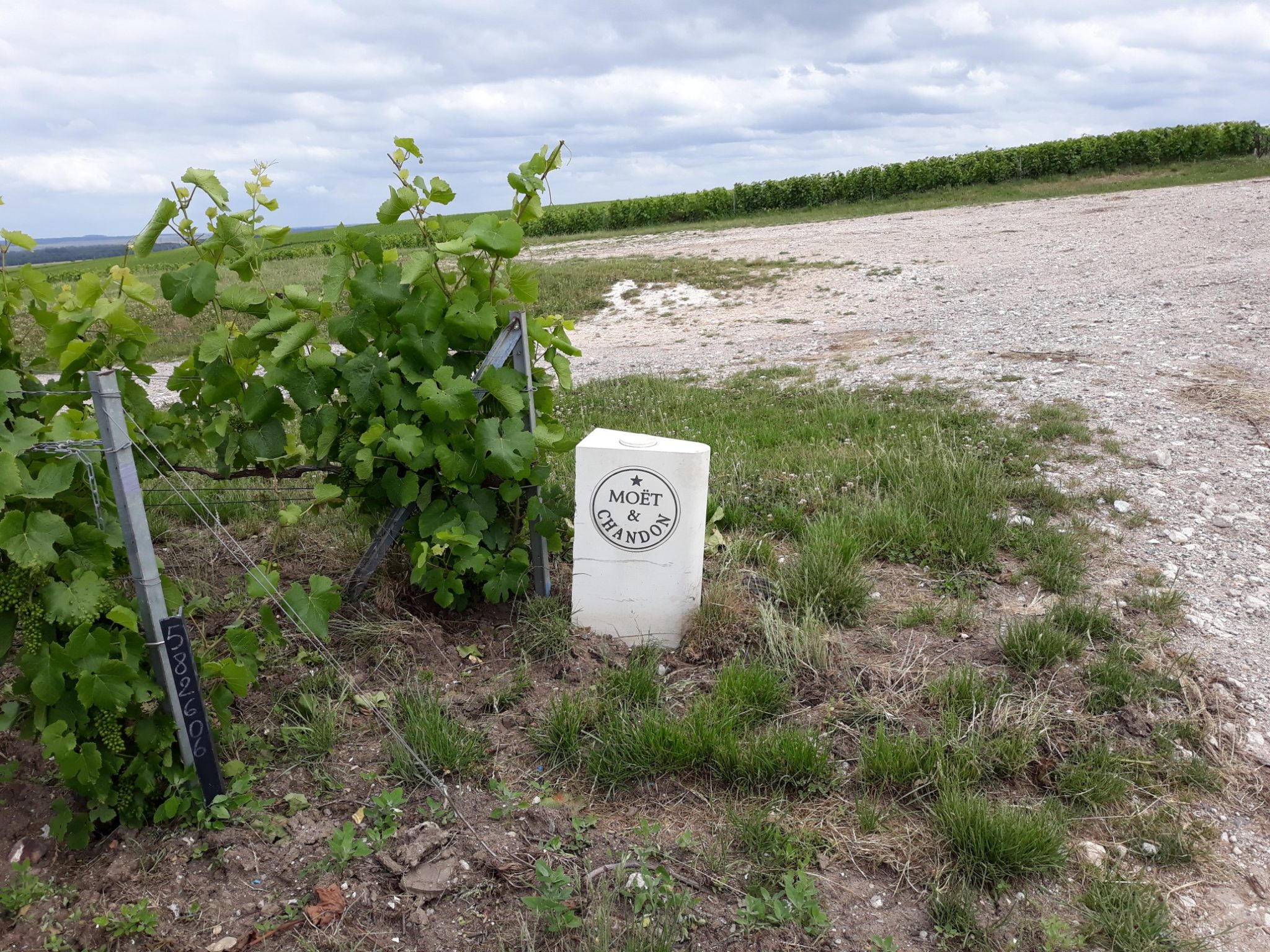 The young grapes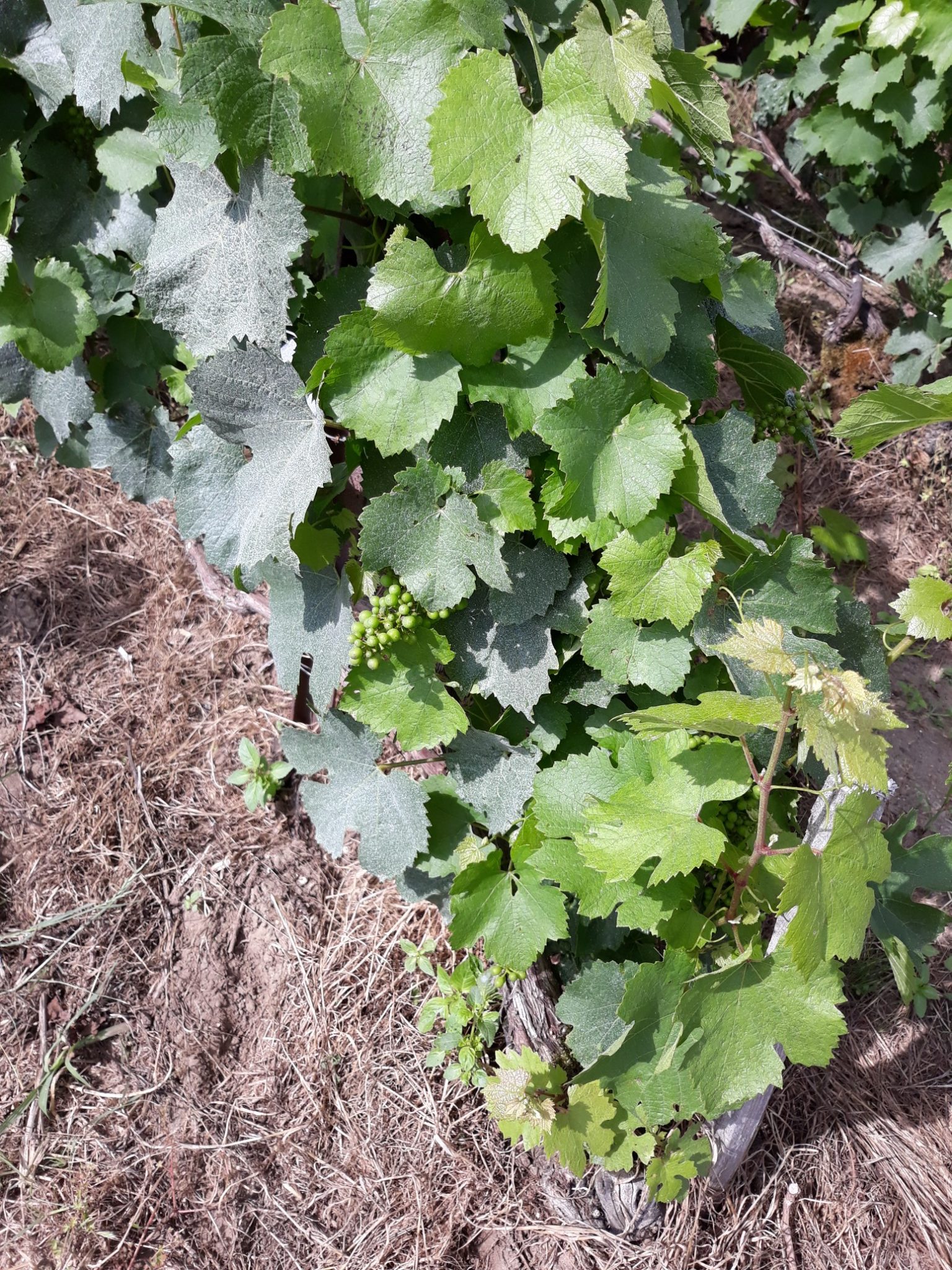 and vineyards as far as the eye can see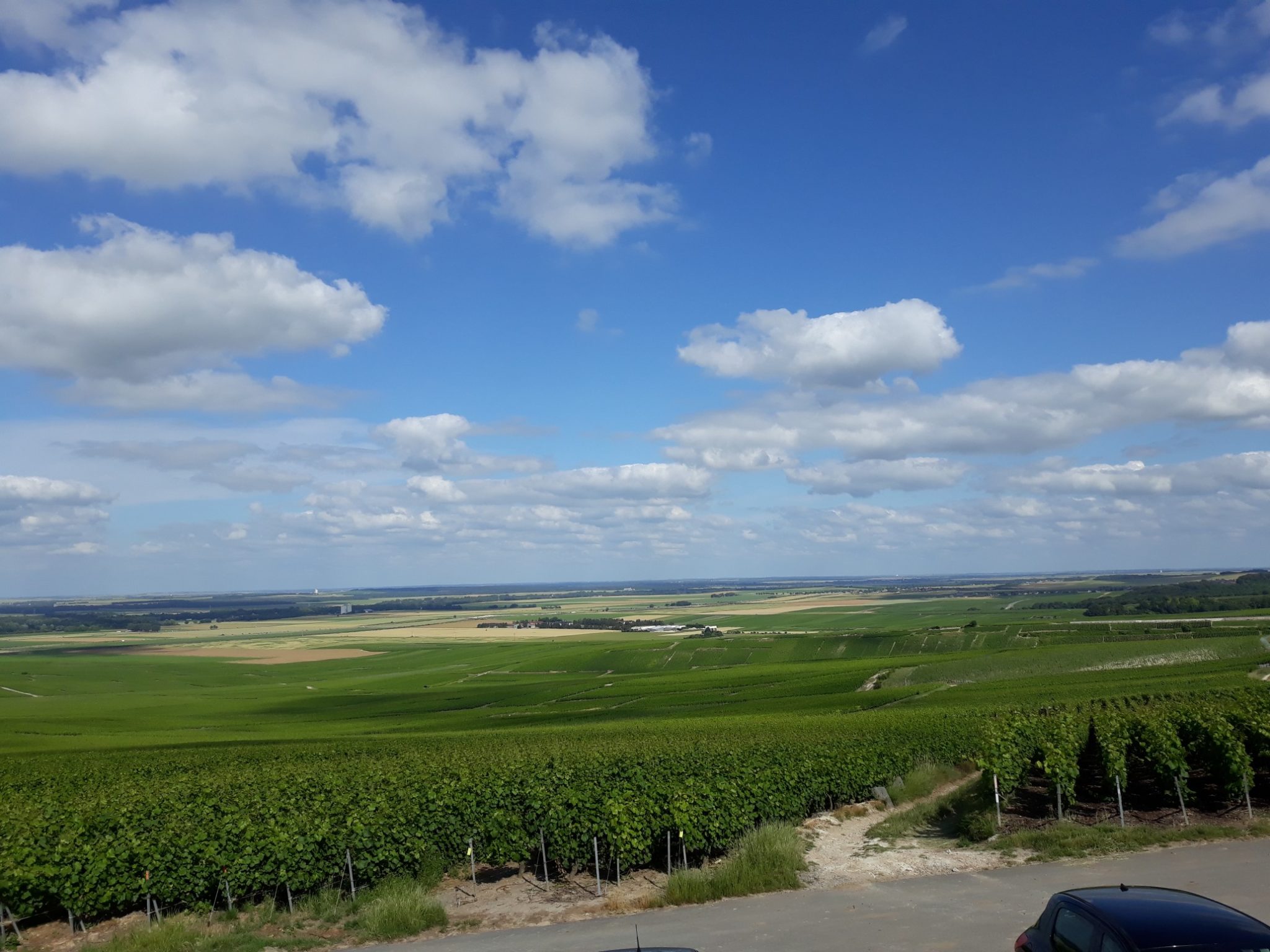 I arrived in Verzy just before 7.00 pm and was met by Madame Lallemont. She has an apartment that she makes available to pilgrims when otherwise not in use.